Preface from Eddie Corbano: Narcissists are out there and they need to be recognized and exposed. I knew they existed, but never had an idea of the devastation they could create in other people's lives. Until I read Marce's post about her personal experiences with a narcissist.
It was in fact so helpful, that I asked her to write a whole article on the topic to educate people what narcissists are and what they do… and most of all – to help you identify if your Ex was one of them.
This is an article in two parts, starting with Marce's story – her suffering, her attempts to fix things and ultimately… how she got out.
You will find that the following is written from a very subjective, personal point of view, and this is exactly what makes it so helpful and valuable.
Please read this. This is a MUST for everyone.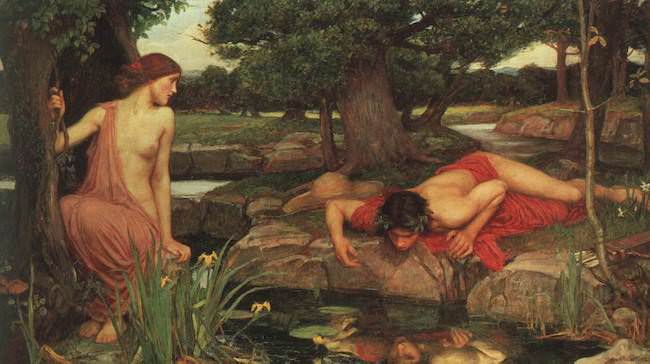 Narcissism:
"A pattern of traits and behaviors which signify infatuation and obsession with one's self to the exclusion of all others and the egotistic and ruthless pursuit of one's gratification, dominance, and ambition."
"'I am in love with you', I responded.
He laughed the most beguiling and gentle laugh.
'Of course, you are,' he replied. 'I understand perfectly because I'm in love with myself. The fact that I'm not transfixed in front of the nearest mirror takes a great deal of self-control.'
It was my turn to laugh."
– Anne Rice, Blackwood Farm
By Marce.
My life with a Narcissist – A Personal Story
In the beginning, he was considerate, understanding, charming, suave, loving, and this is what "sucked" me in.
I WAS IN LOVE – hook, line and sinker.
The Suck In
The relationship was intense and romantic, and he wanted to spend most of his free time with me. He called me pet names like "Princess" and "gorgeous."
He told me that I was beautiful and "just perfect." He made me feel secure in the relationship and said things like, "he would ALWAYS be there for me" – he was going nowhere.
He kept telling me how much he loved me, and needed me, and that he had never met, (or found), anyone like me.
However, this was short-lived because, after the "honeymoon" or "sucking in" stage, the tables turned.
Why?
Well, Narcissists love the "honeymoon" stage where they can just have fun and not be responsible or accountable for anything. Nor do they have to deal with any REAL issues that are necessary to take the relationship to a deeper emotional level.
He loved the romance, adoration, admiration, and uplifting that I gave to him… and I think he thought he had found THE ONE who would tolerate his weirdness without questioning it.
In the beginning stages of our relationship, I NEVER questioned anything because I loved him and completely trusted him. What I did not know at the time is that he did not have the ability, or willingness, to move past this stage of the relationship and that soon he would get bored.
He groomed me and trained me up to be the perfect source of his narcissistic supply – in fact, he even told others in my presence "she is in training."
He also told me on occasion that I continued to "pass" all the tests he'd set for me. When asked what he meant, he changed the subject and said, "I just can't fault you in any way."
I would laugh coyly, but little did I know that he actually meant it – he was training me up and he was testing me ALL the time to see if I fitted in with his plans.
Getting his attention and love made me very happy – so in reply, being his constant source of attention, sex, affection and nurturing was absolutely no problem for me at all, and in fact was very easy for me to do naturally.
I loved him, and I wanted him to be as happy as I was.
The Devaluing
So what happened after the "honeymoon" stage?
"Was it something I said?"
I saw a change in him which resulted in a change in me.
I was still his eager, willing, worthless, doting floor mat – BUT I started asking questions because things did not seem right in the relationship.
Although I DID take this very personally at the time and thought I was doing something wrong, and it was ME that was the problem. I also felt that perhaps I had failed to do something that I should have done or said.
Was it something I said?
So I would re-hash conversations over and over again in my head. For FEAR of losing the love of my life, I used to end up apologizing for something that was NOT my fault, and that I did NOT cause or create.
In fact, often I did not even know WHY or WHAT I was apologizing for, but I did it anyway because I did not want to lose him.
Then I started to see a side of him that created so much confusion for me.
With no valid reason, he started distancing himself from me, failing to keep arrangements that we had made, he seemed distracted and would make excuses.
When I tried to establish what was going on and told him I felt we needed to talk about things, he quickly distracted me by sidestepping the questions. (Narcs are brilliant at dodging questions that they do not want to answer, or in fact, cannot answer, on important issues that affect you).
One time after probing, he admitted that he had changed towards me, but offered no explanation or a valid reason why.
He made me feel like I was going crazy, especially when I caught him out in a lie. In fact he would often say things like, "You are insane!" or, "You are always looking for problems!" or, "If that's the way you feel about it, let's call it a day!" or, "You have no idea what you are talking about!" or, "Don't you trust me?!".
Narcs are very subtle liars – they simply omit information and say things like, "You took it out of context" or, "I never said that."
A few more classic examples are, "You read into everything I say and hear things that are not even there" or, "The reason I never told you the truth is because you always react just like this."
One of my best was, "But I told you," when we BOTH know he never did!
"He made me feel like I was insane and was suffering from short-term memory loss"
So yes, he made me feel like I was insane and was suffering from short term memory loss, and all this made me paranoid, distrustful of him, insecure, sad, out of control, fearful, drained, lethargic and vulnerable.
AWFUL feelings to have, especially since I was never normally like that.
He just became a LOT of hard work and was high maintenance – I felt that he was not putting any effort into the relationship and that I had to do all the hard work to keep us together.
The only thing I was 100% sure of during this devaluing stage, was that I loved him even more, (now that is insane, isn't it?).
And so I carried on like this, even though there were so many unanswered questions and concerns I had.
Deep down I KNEW things were not right – but I could not put my finger on the exact problem, though. He created smoke screens, and I so wanted to trust him.
So I kept trying to "behave" and in the process I neglected my job, never met up with friends much, refused to go out at night in case he made contact with me – my personality changed, (I became an introvert).
And worst of all, I became complacent.
It was okay to be ignored, it was okay for me to do things I would never normally do, (even sexually), it was okay for him not to call or to go out of his way for me, or it was okay for him to disappear from time to time, it was okay for him to forget my birthday.
I also made up excuses for him in my mind to make myself feel better. I lied to myself that it was not his fault or that he has so much to deal with or that he has lots of stress.
The bottom line here is that he conditioned me to accept his bad behavior, and not to question him or show how upset it made me that he did this to me – because he was NORMAL and I was the INSANE one with unreasonable demands.
So I ended up turning a blind eye and pretty much suffered alone.
I allowed my boundaries to be bent – I allowed him to overstep the line.
He once said to me, "Why do you allow me to abuse you? Would you take this crap from anyone else?" To which I answered, "No I wouldn't, and it's because I understand you and love you."
I was his perfect supply.
What I found was that as long as I was submissive, made his life fun, praised him and gave him ALL the attention without expecting or demanding anything in return, things went well.
The moment I started to express my dislike of something, disagreed with him or if I expressed my own opinion that may not have coincided with his, I became a THREAT to his perfect world of control.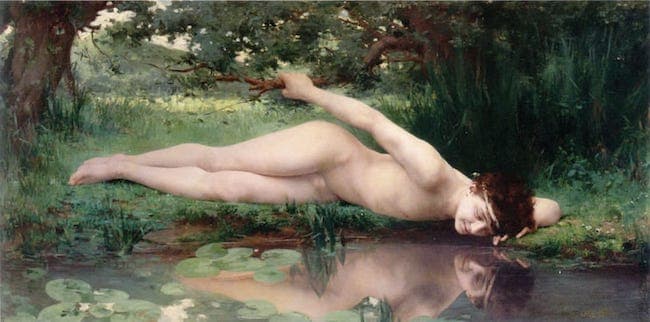 The Break-Up – Dealing With The Aftermath
That's when he went "cold" on me, giving me the silent treatment.
I was cut off and abandoned, (he ran away – disappeared) – which is the only way a Narc knows how to deal with this, and also his way of punishing you for non-compliance.
With a Narc, it's all about HIM, HIS day, HIS life, HIS ambitions, what HE is doing or going to do. He feels he is entitled to constant attention without having to invest anything more into the relationship other than the initial time it took him to "suck you in."
Why?
Because that's what he wants, that's what he expects.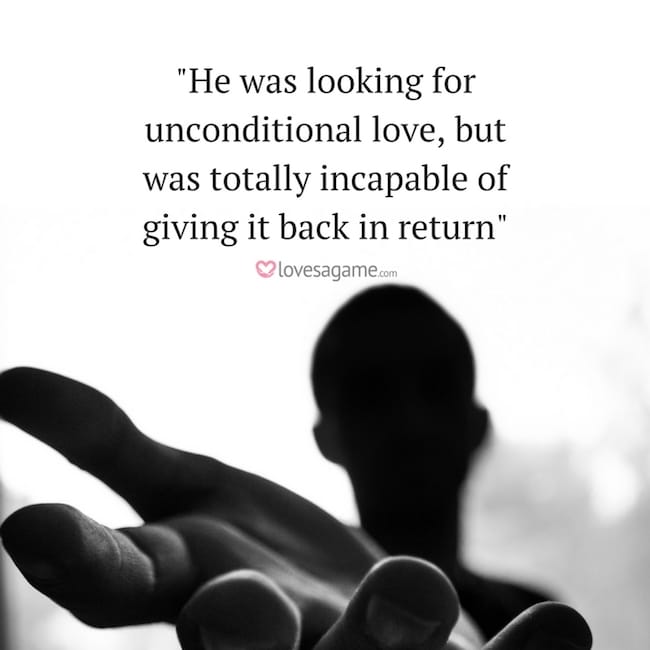 "He was looking for unconditional love, but was totally incapable of giving it back in return"
And the worst thing is that you have to tolerate his indiscretions and his unacceptable behavior.
Of course, this is an unrealistic game to play in the REAL world, and I started to realize that that was all it was to him – a GAME.
To add to the confusion, he would come back days or weeks or months after having disappeared telling me he loved me.
He did say, "I will always come back because I just can't stay away from you," but I figured out that it is NOT the kind of love NORMAL people are familiar with.
He was looking for unconditional love but was totally incapable of giving it back in return. He wanted HIS needs met but didn't give a damn about what I needed. He loved the way I made him feel, and he loved the way he made me feel – desperate and needy and stupid because that puts him in CONTROL.
So you may be asking: "Are you telling me he never loved you and never had any real feelings for you?"
Yes, of course, he had real feelings for me, but they sure as hell were NOT love.
After my research on Narcissists, I learned that they only love to the extent that they are ABLE to love.
I say this because love does not USE people, love does not ABUSE people, love does not DEVALUE people and love does not DISCARD or ABANDON people and toss them to the side like rubbish.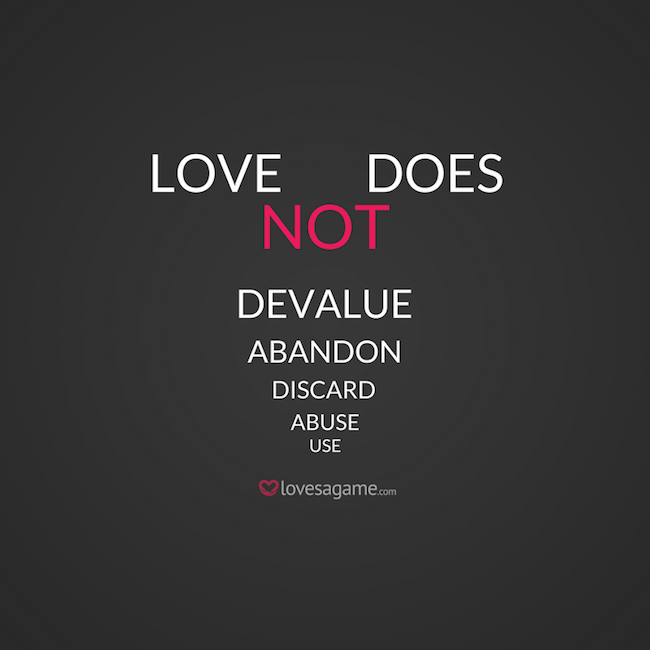 I, (the dumpee), was devastated and emotionally I had been reduced to a mere "zombie" of my former self.
I immediately started researching everything and anything on "relationships," "men who just disappear," "booty calls," "will he come back to me," "no contact," "how long would I have to wait," "what must I do," etc.
Every day I learned something new – but the articles, although very valuable and informative, just didn't quite fit his profile and/or our situation in its entirety.
Click here to read part two: My Life With A Narcissist – What I've Learned