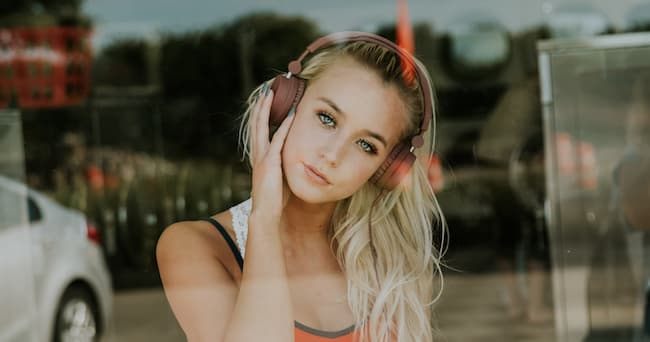 As you might know, overcoming a break up involves a roller coaster ride of emotions.
One minute you feel great, the next you are in deep depression.
Escaping these downtimes is often a big challenge.
While there are some techniques that can help you avoid these moments, a lot of break up victims listen to sad break up songs to ease their pain.
And it works: certain tunes can help you to get over those hard moments.
But I would like to warn you against making a big mistake in this situation.
There is one critical premise you need to remember when listening to these songs:
They have to be empowering, inspirational and they have to pick you up again.
There is a temptation to listen to those "heart-killing" ballads, (you know what I mean).
Don't do it!
I made that terrible mistake back then.
I listened to some of these that reminded me of her over and over for weeks.
It not only delayed my healing process, I fell into a deep depression and wallowed in my own misery.
Don't make that same mistake.
These kinds of songs can help you to cry out accrued emotions, but this will only work at the very beginning – the 1st Phase.
Later, they would likely throw you into the vicious cycle of your memories, from which it is very hard to escape. (Trust me – I know what I'm talking about).
The other kinds of music that you have to avoid are "hate-your-ex-songs."
The goal in the long run is to get rid of your anger towards your Ex, so listening to this kind of song will only give you false ease, which will hurt you in the long run.
Listed below, I have collected for you the ten best songs that you should listen to after a break up.
I have not taken my personal musical taste into consideration here, (mine is really not mainstream), but rather focused on lyrics that will pick you up and pull you out of your depression.
Additionally, I looked for tunes which can convey these kinds of lyrics, (what's the use of the great, uplifting lyrics if the song makes you fall asleep?).
So, pull out your iPod, check out the following tunes and create your playlist:
1. Gloria Gaynor – I Will Survive
This is the mother of all uplifting break up songs. Strong beat, great lyrics:
"I used to cry,
Now I hold my head up high
and you see me,
somebody new.
I'm not that chained up little person
still in love with you."
2. Cher – Strong Enough
Are you?
"'Cos I'm strong enough
To live without you.
Strong enough and I quit crying,
Long enough now I'm strong enough,
To know you gotta go."
3. Johnny Nash – I Can See Clearly Now
A catchy tune and positive "feel-good" lyrics.
"Think I can make it now, the pain is gone
All of the bad feelings have disappeared.
Here is the rainbow I've been prayin' for.
It's gonna be a bright (bright), bright (bright)
Sun-Shiny day."
4. REO Speedwagon – Time For Me To Fly
A classic!
"It's time for me to fly.
Oh, I've got to set myself free.
Time for me to fly,
And that's just how it's got to be.
I know it hurts to say goodbye,
But it's time for me to fly."
5. REM – Everybody Hurts
This is a GREAT song, one of my all-time favorites.
"When the day is long and the night, the night is yours alone,
When you're sure you've had enough of this life, well hang on.
Don't let yourself go, everybody cries and everybody hurts sometimes."
6. Bob Dylan – Most Of The Time
You don't have to like Bob Dylan to like this song. Great lyrics.
"Stay right with it, when the road unwinds,
I can handle whatever I stumble upon,
I don't even notice she's gone,
Most of the time."
7. Ace Of Base – Don't Turn Around
"If you ever think about me,
Just know that I'll be alright
I'm gonna be strong,
I'm gonna do fine,
Don't worry about this heart of mine.
I know I'll survive
Sure I'll make it through."
8. Carrie Underwood – Wasted
The proof that they really exist: positive country songs. A wonderful song!
"I don't wanna' spend my life jaded,
Waiting to wake up one day and find,
That I've let all these years go by,
Wasted."
9. Justin Timberlake – Cry Me A River
I listened to this one a lot. A great musical piece and it gets you into an empowering mood.
"You told me you loved me,
Why did you leave me, all alone?
Now you tell me you need me,
When you call me, on the phone.
Girl I refuse, you must have me confused,
With some other guy.
Your bridges were burned, and now it's your turn,
To cry, cry me a river."
10. Louis Armstrong – What A Wonderful World
This is simply a classic feel-good song.
It always reminds me that there is a life out there beyond the problems that we might have and that there is strength already within us.
Listen and dream.
"The colors of the rainbow so pretty in the sky,
Are also on the faces of people going by.
I see friends shaking hands saying how do you do.
They're really saying I love you."
There you have them, the best positive music that I listened to back then.
They have helped me to overcome my break up, and they can help you too.
Never forget – positivity is the key to success. Surround yourself with positivity, and your life will improve.
You will survive. I promise.
Your friend,
Eddie Corbano
Do you know some good heartbreak songs? Please share them in the comment section below!
If you liked this article, please share it. I'd appreciate it. 🙂