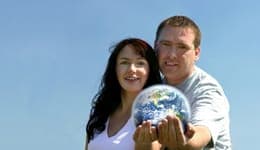 We have all been in this situation – you meet someone very special, you fall in love, everything is perfect. Suddenly, it turns out that this very special someone has to go far, far away for college, a better job, an expedition – you name it.
You then have two choices: breaking up, or to go for a long distance relationship.
I have been receiving many e-mails since posting my article about how to make a long distance relationship work. People have been asking me if they should go for a it or not.
They want to know if it will it turn out well, for how long is it ok, and so on.
I try to answer every e-mail as detailed as possible. But in the majority of cases, my response is usually, "Yes, I would always go for it – if you feel it is special, if you have a clear time frame, if you are willing to follow the rules I've stated, and last but not least, if you believe in it.
Many of you have had a failed LDR in your past, so your hopes and expectations regarding those kind of bonds are not high. For this reason, I have decided to list some benefits of a these kind of relationships to make your decision easier, and to give you some hope as well.
You are not alone.
There are hundreds of thousands of working relationships over a long distance around the globe.
I said that I usually always recommend to go for it, however there are a few exceptions.
If the duration of the separation is unusually long, and the chance for monthly meetings is extremely low, it is going to become very hard.
In that case, I recommend to really think it over, especially if you are very young.
I am well aware that it is very difficult to say no to the relationship because of rational reasons, but eventually that would end up being the best decision. Otherwise, it may lead to frustration, anger and pain.
But for now, let's assume that you have no more than one year or so to go, and you know that you can follow the 10 rules.
Here are the top 5 reasons why you should go for a long distance relationship:
1. Better sorry than safe
There is nothing sadder than a missed opportunity.
A very wise man once said to me, "I never regret things I've done, but I regret many things I have not done".
You never know how things are going to be before you try them. Every single experience, good or bad, enriches your life in some way. They build the foundation for decisions in the future. They make you wiser and build up your self-esteem.
Not to mention that in every missed opportunity, you may have missed the love of your life.
All the good things in life involve a certain risk, but the biggest risk in life is missing out.
Think about that.
2. You gain time for other things
"Finally I can take the Spanish course".
A LDR isn't as time consuming as a regular relationship. You can use the free time to reach your personal or job related goals.
You have more time for your career, friends, hobbies and family.
3. It's the ultimate test of seriousness
"I really mean it baby". Now you can prove your commitment.
There is no point enduring such a difficult challange if you don't mean it, and if you are not fully committed.
It just doesn't work. After a few weeks or months, the first man/woman that comes around that you feel an attraction to will make you forget about your relationship..
So, this is a test on whether or not you are committed and suitable for each other for a long term relationship.
Of course, this only applies to couples who were together before they were separated by distance.
If you've met in a chat room, then it's the other way around.
4. You learn to treasure those rare moments together
Fact is, you'll probably see each other only 1-2 times a month, if that much. These rare meetings will be an explosion of passion and love. All of the longing will focus into this short meeting.
It's a good lesson to understand what really matters in a relationship.
5. You really get to know each other
It is much easier, and actually much more natural to get to know somebody through e-mail. All of the outside stuff is left out. It is easier to open up, and you can learn about the inner world of your partner.
No pretending, no beautifying.
This also makes the meetings more intense.
There you have it, some thoughts as to why you should take a chance and go for it.
Please do me two favors.
Tell me your thoughts about this. Have you survived a love over distance? Why would you recommend it? I'm looking forward to your comments.
The other thing is, please participate in the following survey. I'm really interested to see how many of you would go for it again.
(survey closed)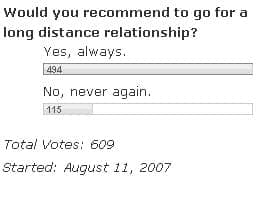 I hope that I gave you some insights which will help you make the decision. Don't take it too easy, a relationship with miles between you is very hard, but it could give you so much in the end.
Ask me about it!
Your friend,
Eddie Corbano