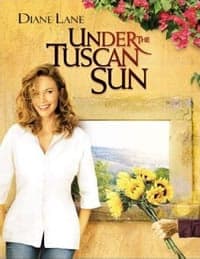 As I mentioned in my last article, it is very important that we avoid all circumstances that remind us about our break up, especially in the beginning. This certainly includes listening to sad break up songs, or watching romantic love stories where the hero pursues the love of his life.
Nothing wrong with those, (as a romantic guy, I love watching them), but at the beginning of your break up or divorce they can do more harm than good.
Of course, sometimes they can help you to cry out your pain, but in the long run, they can throw you into depression, and you could end up with the vicious cycle of your memories.
What I do recommend, however, is anything that will help you to stay positive.
"Under the Tuscan Sun" is such a movie.
Diane Lane plays a character that discovers, by accident, that her husband betrayed her, and finds herself in the middle of a painful divorce.
Her best friend sends her on a trip to Tuscany in Italy, where her destiny takes an unusual path.
Following a gut feeling, she then buys a small ruinous house in the middle of the beautiful Tuscan country.
The renovation process of this house, (with the help of three very strange but good-hearted workers), symbolizes her own healing process and helps her to find her true inner self.
I've always loved this movie. I still watch it from time to time.
It always brings me into a special mood for two reasons:
The beautiful and dreamlike Tuscan countryside inspires and animates one to dream about a life in the midst of renaissance architecture, beautiful sunlight and the Italian way of life.
The courageous decision making of the main character reminds me that it takes tough decisions in life to accomplish and reach a desired state of living. And most of all – it takes gut feeling decisions!
Of course, you could argue that this is just a movie. Then again, why not try to be inspired by a movie if you could improve your life, or even stay positive just for one day?
Here are a few of my favorite quotes:
"Regrets are a waste of time. They're the past crippling you in the present."
"What are four walls, anyway? They are what they contain. The house protects the dreamer. Unthinkably good things can happen, even late in the game. It's such a surprise."
"Signora. Please stop being so sad. If you continue like this, I will be forced to make love to you. And I've never been unfaithful to my wife."
"If you smash into something good, you should hold on until it's time to let go."
"Never lose your childish innocence. It's the most important thing."
Buy it or rent it, and find yourself in the middle of the paradise-like Tuscan countryside, and forget for a few moments that life can be a pain in the lower back sometimes.
Your friend,
Eddie Corbano