I love inspirational quotes.
Especially broken heart quotes.
I find them very useful for our recovery – they help us realize what is important and in which direction our recovery should go.
Also, they motivate us, showing us that we are not alone, that throughout all history of humanity we have been fighting the same problems, overcoming obstacles, getting stronger and thriving by going through the pain.
I've posted quite a few inspirational quotes over the years, but there are two quotes that I've always held high regarding helping people to heal and giving them strength to carry on.
They particularly stand out due to their direct message and usefulness for going through the recovery.
The first quote is from the bestselling author John Greene.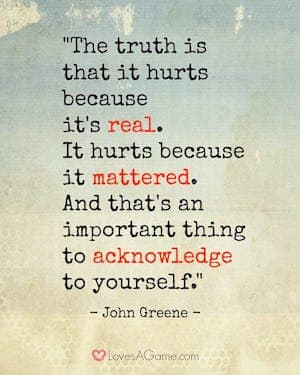 "The good times and the bad times both will pass. It will pass. It will get easier. But the fact that it will get easier does not mean that it doesn't hurt now. And when people try to minimize your pain they are doing you a disservice. And when you try to minimize your own pain you're doing yourself a disservice. Don't do that. The truth is that it hurts because it's real. It hurts because it mattered. And that's an important thing to acknowledge to yourself. But that doesn't mean that it won't end, that it won't get better. Because it will." – John Green
What I like about this quote is that it reminds us how important it is to acknowledge that the pain is there and that it's there because our partner mattered to us.
We must actively decide to go THROUGH the pain. Trying to ignore it – or worse, numb it with painkillers, drugs or alcohol – will only self-sabotage our healing process.
There are ways to minimize the pain and suffering during the healing process, but it's important to decide to go through it.
The second quote reminds us that we have to stay true to ourselves.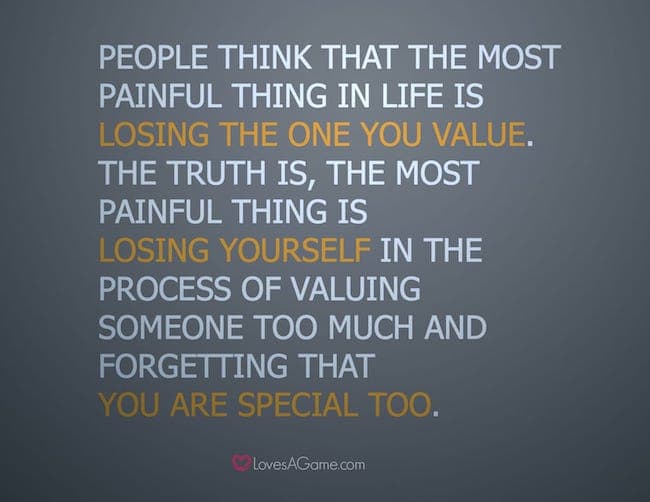 "People think that the most painful thing in life is losing the one you value, the truth is, the most painful thing is losing yourself in the process of valuing someone too much and forgetting that you are special too."
It is so easy to lose yourself in love.
It is so easy to forget who we really are. What we love, what we strive for, what fulfills us.
(MORE: How To Re-Discover Your Identity After A Relationship Split)
When we put our partner as the focus of our lives and interests, we lose something special. And we also destabilize the relationship as a side-effect.
The relationship is only as strong as the weakest part of it. The more emotionally self-sufficient each partner is, the stronger the relationship.
NEVER forget that you are special too. Never lose your dreams and never stop nurturing the person you are.
That's what these quotes are all about.
That you should always stay true to yourself and that you acknowledge that YOU are special.
Please never forget that.
Your friend,
Eddie Corbano