Maintaining No Contact with your Ex-Partner is probably the hardest thing you'll ever do.
To make it easier, you try three things that will help you resist the temptation, stay strong, and just get through it.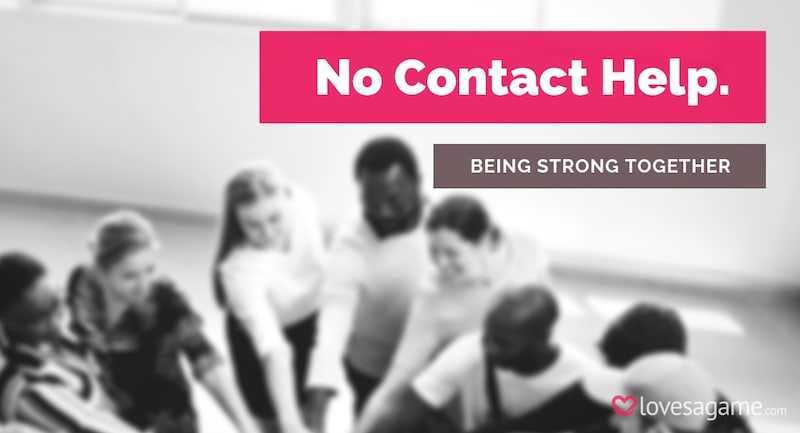 Believe me, I know how horrible this is.
You wake up in the morning, and the pain rolls over you like a tsunami. All you want to do is text your Ex and make this all go away.
But you know that you can't. It would only make things so much worse.
As a result, you are confused, frightened, and just don't understand WHY all this is happening.
I know, I've been there.
But you are not helpless.
You can make it through and I will show you how.
Why You Are Struggling With No Contact
You have to accept that you are suffering from a form of addiction.
Therefore, the concept of No Contact after a relationship breakup is very similar to alcohol or drug rehab:
Avoid the very thing that you are addicted to.
In other words, get your butt as far away from your Ex as you can.
You need time to heal and detox from your Ex.
I'm sure you are having a rough time with this. I certainly did. It's hard.
That's why before we continue, please make sure that you read my extensive guide about how to practically apply the rules to your situation:
No Contact Rule After a Breakup: The Definitive Guide
It'll help.
"No Contact Is Killing Me."
There are times when you miss your Ex so much that it hurts. Picking up the phone and texting or calling them would be so easy, wouldn't it?
But would it also ease your pain or help your recovery?
No, it won't.
Trust me, it won't.
On the contrary, actually.
Let me tell you something:
There is NOTHING your Ex can say to you in a phone call or text (or personally) that would reduce your pain in the long run.
They can only make it worse.
You DON'T want to know how they are doing (it is more than you can handle).
Also, NOTHING that you do or say will impress or endear them to you.
This is a fact that is very difficult to accept.
How the No Contact Rule Works
Just to reiterate:
No Contact means entirely NO CONTACT with your Ex, either personally, by phone, through social media, email, or short message.
It means NO Facebook stalking, NO phone harassing and NO parking/driving in front of their house.
Big NO, NO, NO to any of that.
You do this for a full 60 days.
(If you need daily motivation for doing this, you can subscribe to my free newsletter.)
But what do you do when it's really getting tough, when missing your Ex becomes so unbearable that you pick up the phone and are about to call?
No Contact Help: How to Get Through
Three proven methods will help you stay strong during that time:
1. Distraction
The human brain can only concentrate on one thing at a time. So, if you are about to contact your Ex, have a list of prepared distractions ready that you can put into action immediately.
The best options are things where your brain is involved, where it has to figure out something. For example, do research on a specific topic, take quizzes, try puzzles, etc.
The more work your brain has to do, the better the distraction.
2. Call a Friend
When you are close to calling your Ex, call a close friend or a relative instead — a so-called No-Contact Buddy.
They will talk you out of it, as well as some sense into you.
3. Post HERE!
Let ME be your No-Contact Buddy.
Post in the comment section below:
Your No Contact Count (in days).
Everything you want to say to your Ex — just get it out of your system! (No profanities please.)
How to Stay Strong During the No Contact Period
DO NOT CONTACT that Ex, put it all here! Unload all your anger and longing into our comment section.
By sharing your No Contact struggle with the LovesAGame Community, two things will happen:
You will find that the need for contacting your Ex will be much less.
The replies of other readers will give you hope and strength.
Having said that, now it's your turn. Post below and let's help each other.
Your No-Contact Buddy,
Eddie Corbano